DIY Fall Chalk Painted Mason Jar Ideas
Mason jars aren't just for canned foods and drinking sweet tea out of! Have you seen all the super cute ideas for using colorful mason jars in your fall DIY décor? While you can certainly leave mason jars plain, they are dressed up perfectly for the season when they are painted in rich fall colors! I'm going to share some super cute, fun and easy ideas for using fall painted mason jars in your seasonal home Fall décor.
First, let me say that if you don't have any mason jars around your house to use for these projects, check your local Goodwill or thrift store. You can also buy mason style jars at craft and hobby stores like Hobby Lobby and Michaels. And honestly, you can just use an emptied out glass food jar that has the same size and shape of mason jars. So, with that let's get to a few fun ideas for using painted mason jars in your fall DIY décor!
This post contains some affiliate links. If you click a link and make a purchase I may receive a small commission, but at no extra cost to you as a customer! And I appreciate your support so much so I can bring you more fun content and keep my site ad-free. You can find my full disclosure policy here
Project Supplies
DIY Project: Fall Chalk Painted Mason Jars With Fall Dollar Tree Foliage
For this project, I used Dixie Belle Chalk Paint in Colonel Mustard, which honestly doesn't sound like it would be a pretty color. I haven't yet tried this color on furniture. But let me tell you that when you see this color on a mason jar it is the perfect deep golden yellow for fall! Looks like a beautifully yellowed fall leaf. You could certainly choose any color paint that speaks "fall" to you. And even neutrals work great.
Step 1: Apply Primer Coat of Slick Stick
One thing I prefer to do when painting mason jars and other glass items is first apply a primer coat of Dixie Belle Slick Stick which is bonding primer. Slick Stick adheres to slick surfaces such as glass, plastic, laminate, slick shiny veneers and other slick surfaces. Applied prior to the paint, it improves adhesion of the paint to the slippery surface. You don't absolutely have to use the Slick Stick as most of the time, chalk paints stick well to glass and other surfaces, but in my experience I find it helps tremendously to prevent the paint from scratching off easily!
Step 2: Apply Fall Colored Chalk Paints
I typically do at least 2 coats of Slick Stick and then 2-3 coats of paint. To finish it off and protect my paint from easily coming off the jar, I apply a topcoat. Usually I reach for either Dixie Belle Clear Coat in Satin or Gator Hide. But for a home décor project like this even a clear wax would work great. When it comes to furniture deciding on a topcoat can be tough, but home décor projects typically don't need as much serious protection since they are mostly decorative. You can also skip the topcoat altogether if you prefer.
Step 3: Decorate Your Painted Mason Jar
To decorate my mason jar, I used three stems of faux colorful fall leaves foliage from Dollar Tree. This painted mason jar was just perfect for these leaves. And, to finish it off I wrapped a thin burlap ribbon around the neck of the jar and let it drape downward. Just three simple items to complete this look. I have it sitting on my mantel with other fall décor but you could use it anywhere in your home or even as a fall table centerpiece.
P.S. If you want to find out how I used chalk paint to update my red brick fireplace brick to this simple white chalk painted wash you can read more about that in my blog post.
Roundup of Fall Painted Mason Jar Ideas
Now, for a roundup of some other fun fall décor ideas with painted mason jars. I found a few great ideas on Pinterest that I'm going to share next. These all look so adorable, but easily doable, even if you don't consider yourself crafty! And, I bet you are under estimating yourself too!
Roundup Project 1: Candy Corn Painted Mason Jars
Let's start with the adorable candy corn theme painted mason jars featured on Hip Mama's Place Blog. You can find details on her blog at https://www.hipmamasplace.com/diy-painted-candy-corn-mason-jars/.
These look so festive! She used three colors of chalk paint, white, yellow and orange and painter's tape to create a mock "candy corn" mason jar, which she finished off with a little twine bow. Just so sweet! Check out her blog post for details and instructions at https://www.hipmamasplace.com/diy-painted-candy-corn-mason-jars/.
Roundup Project 2: Burlap Wrapped FALL Lettered Painted Mason Jars
Next up are these cute burlap wrapped painted mason jars that spell out FALL by Amanda at Crafts by Amanda Blog https://craftsbyamanda.com/fall-mason-jars/.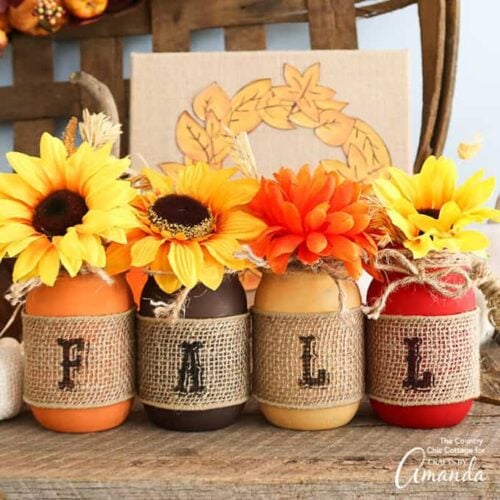 She first painted her mason jars with four fall colored chalk paints and then wrapped the jars with a thick burlap ribbon, onto which she spelled out FALL. In each jar she place a sweet fall flower. This project would make a beautiful centerpiece for your mantel or fall table. You can find details and instructions on her blog at https://craftsbyamanda.com/fall-mason-jars/.
Roundup Project 3: Buffalo Plaid Painted Mason Jars
For a little different twist on painted mason jars check out Do Dodson's buffalo plaid painted mason jars on her blog at https://www.dododsondesigns.com/buffalo-plaid-mason-jar/.
She shows her jars painted with a gray, black and white but you can create fall colored buffalo plaid jars with white chalk paint as your base and then a lighter and darker orange color or a lighter and darker golden yellow. Check out her blog for the exact technique she uses! These buffalo plaid painted mason jars are just so wonderful and yet so simple to do! You can find more at https://www.dododsondesigns.com/buffalo-plaid-mason-jar/!
Roundup Project 4: White Googly-Eyed Ghosts Painted Mason Jars
Now for a cute but ghoulish idea! For a fun twist on Halloween décor, check out https://www.number-2-pencil.com/halloween-mason-jar-craft-mason-jar-ghosts/.
These mason jars of various sizes were first painted white. She actually she used a glass spray painting kit by Martha Stewart to paint them white. She then applied cute craft googly eyes to complete a super cute but ghostly look! You can find details on her project on her blog at https://www.number-2-pencil.com/halloween-mason-jar-craft-mason-jar-ghosts/. I must say my favorite is that little short round mason jar ghost in the front! Adorable!
Summary – DIY Fall Painted Mason Jars
I certainly hope this roundup of fall painted mason jar ideas gets you excited to start painting some mason jars for your fall home décor. Mason jars are both fun and easy to use in home décor. There are endless ideas on how to use mason jars for seasonal and everyday home decorating. So, if these ideas don't spark your interest, check out Pinterest for more!
Other Fall and Winter Seasonal DIY Décor Project Ideas
Here are a few other related fall and winter seasonal projects:
I'd love to know what projects you are working on! Send me a DM on Instagram, leave a comment or connect with me on other Social! You can find me on Pinterest and Facebook also!